Our latest site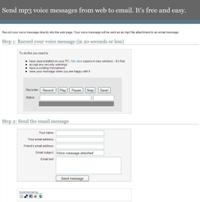 Mymailvox.com - record and send mp3 voice message from web to email. Free and easy.
Record your voice message directly into the web page. Your voice message will be sent as an mp3 file attachment to an email message.
If you want:
a great value, professional looking, accessible, standards compliant website that allows you to easily update your own content without specialist technical knowledge

to redesign your existing website, to make it work it for you

to do more with your existing website

advice on how your website can be improved

free advice on any aspect of the Internet in plain English

We can help.
Prices for a content managed site start at £500.

For free advice or a free no obligation quote contact us.